Fast and easy retail Point of Sale
---
Future-proof your retail business with Saledock's unified cloud-based POS system. Unify in-store and online sales, accept payments, track inventory and sell with confidence!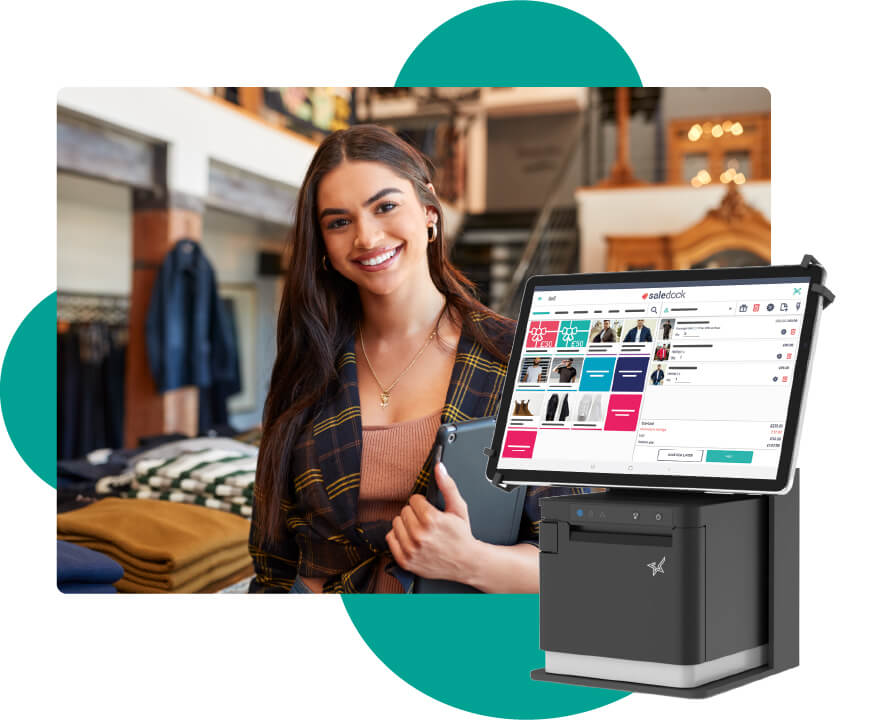 Easy cloud-based POS
Say goodbye to your old shop till system and hello to our powerful retail POS solution! Download the app today and explore the POS tools you need to empower your business.
done

Train your staff in minutes with a simple, yet intuitive solution

done

Reduce queue times with our responsive and reliable checkout experience

doneImprove customer experience - Discover customer details and sales history
Try for free
Tap, scan or search
Tap, search or scan barcodes to add items to your order. On a mobile? Use your built in camera.
Customise
Create custom receipts, staff permissions, quick keys, categories, tax rules and more.
Quick sales and notes
Quickly add products not in your inventory and add notes to keep track of special requests.
Promotions and discounts
Promotions are automatically applied at checkout. Add item or whole order discounts.
Save orders
Did a customer forget an item? Save it and continue the order when they are ready to checkout.
Layby orders
Easily check a layby balance, payment history or make another payment.
Split and partial payments
Accept multiple payments on a single order or take deposits and partial payments on layby orders.
Refunds and exchanges
Complete sales history - Easily manage refunds and exchanges from any store on any device.
Gift cards
Increase revenue and attract new customers with brandable omni-channel gift cards.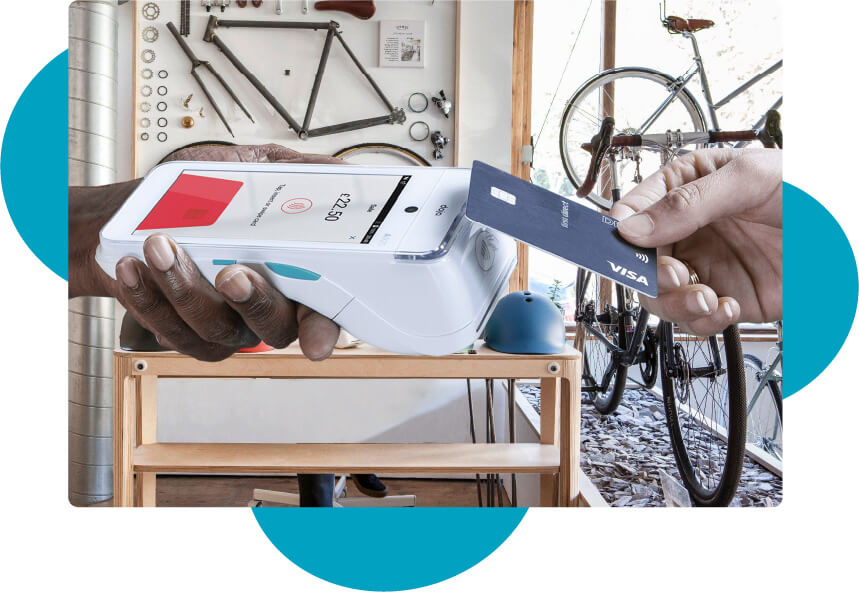 Fewer checkout mistakes
Connect your card reader to Saledock for a fast and seamless checkout experience. We offer impartial advise about our partners to help you choose the best option for your business.
done

Avoid costly miskeying mistakes - Order totals are sync straight to the reader

done

Avoid the queues - Keep customers happy with a fast checkout time

done

End of day reconciliation is a breeze - Transaction data adds up automatically
Book a demo
payment partners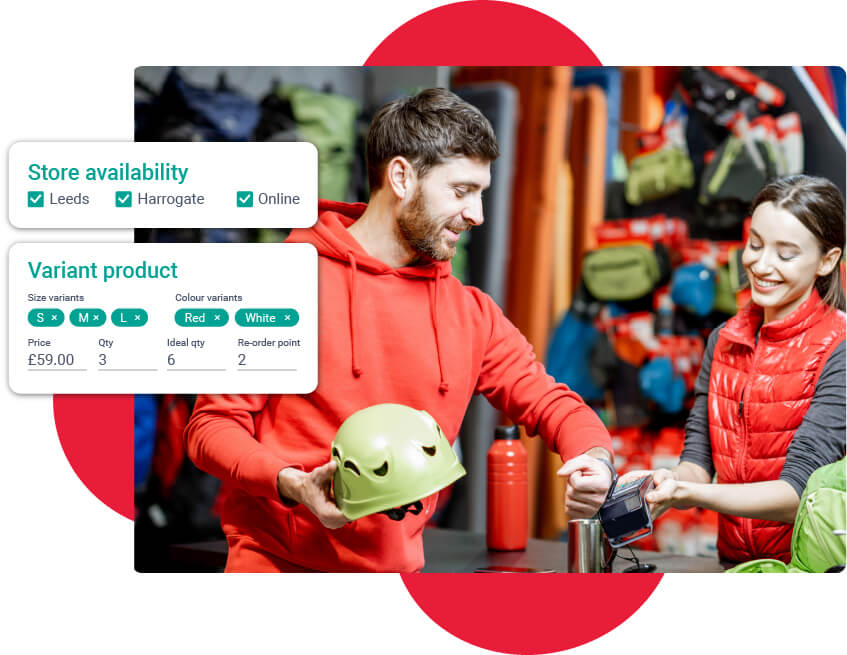 Better business decisions
Understand your business better, and avoid that inventory headache. Manage stock levels across multiple stores and effortlessly print barcode labels, create purchase orders, transfer stock, and perform full or partial stock takes.
done

Specify re-order points - Receive alerts when stock is low so you can plan ahead

done

Discover what's hot and what's not and make more space for your top products

done

Instant product and stock change sync across your POS devices and online store
Book a demo
discover more
format_quote
"Saledock have done a simply amazing job in building the fully integrated Point of Sale and eCommerce solution, it's incredibly easy to use. If you or someone you know is looking for a Point of Sale solution I cannot recommend them enough!"
Ben Bowers, Founder

Watch real customer case studies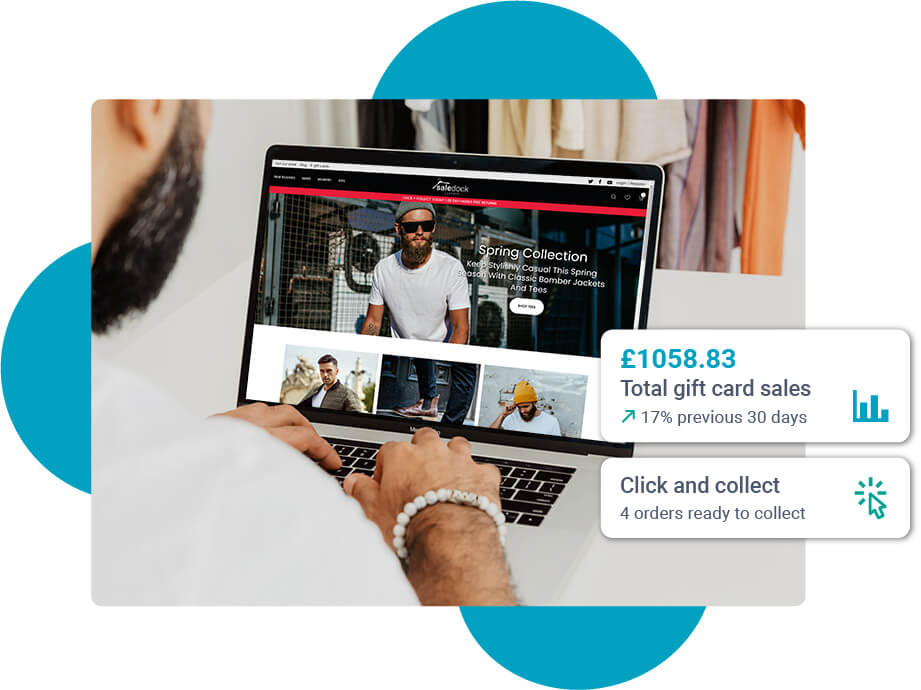 Everything under one roof!
ePOS, eCommerce, loyalty, inventory management and business analytics. Everything you need to manage and grow your retail business!
done

Multi-store capabilities - Add stores as you grow

done

Avoid long queues - Sell on the shop or on the go with your mobile POS

done

Migrate or move online with Saledock eCommerce for one unified experience
Book a demo
discover ecommerce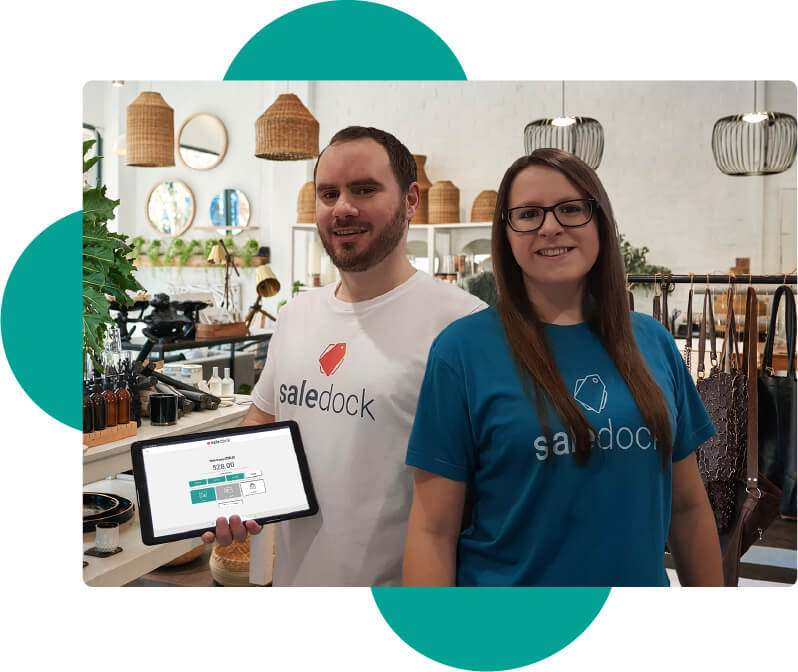 We're here to help you succeed!
Choose a team that's dedicated to your success! We take pride in our customer service and our Yorkshire, UK team are on hand to help. POS, eCommerce and inventory management support, all under one roof!
done

Round-the-clock support by phone, email and live chat

doneOne-on-one onboarding and training, plus our help centre and video tutorials
doneGot a question? Call us now on 01904 405 989
Talk to our team
Need retail POS hardware?
---
We have that too! We offer a range of hardware bundles tailored to your business needs and budget.
Buy now
Start your free trial
---
Start your 14 day free trial today and explore all the tools and benefits that Saledock can offer you!
Try for free
FAQ's
---
addremoveIs Saledock suitable for my business?

Saledock was built with retailers, for retailers. Our wide range of features are perfect for retailers with inventory requirements. Check out the "your business types" page to see if Saledock is the right fit for you! If your business type isn't on there, get in touch to see if Saledock is a suitable option.

addremoveHow do I get started with Saledock?

You can reach out to our team by calling us on 01904 405 989 and completing our contact form.

We understand each business is unique, we'll ask you a few questions so we can tailor our demo to you. We'll explore your business needs and next steps, including the onboarding process. Once we have your account setup, we'll schedule your one-on-one onboarding session and walk you through all areas of Saledock including product import and hardware setup.

Depending on the number of stores you have and the number of EPOS systems you require, we could have you up and running in as little as a week.

addremoveCan I import my existing products?

Yes! We'll help you migrate your existing product data from your old system. To do this you'll need to export your existing data and download our CSV template from the Saledock back office. We'll help you format your products, ready for bulk product import into the back office. We can bulk import your customers too.

addremoveIs the hardware included?

No, hardware is not included in your subscription but you can purchase hardware directly on our website or via our team. If you already own hardware, check our compatibility list. You'll need hardware such as a terminal/tablet, cash drawer, receipt printer, barcode scanner and a barcode label printer.

addremoveHow do I switch?

It's simple, get in touch with our team for a demo. Once we've signed you up for an account and you've chosen either an annual or monthly plan, we'll help migrate your data. This means we'll take the porduct export list from your old system, re-format it then bulk import it into Saledock. We'll even perform a data integrity check to ensure everything is how it should be.

addremoveCan I upgrade or downgrade my subscription?

Of course, just get in touch and we'll update your subscription. Whether that's to upgrade or downgrade your plan or to add new licenses. We only charge £29 per month for additional register licences within the same store.

addremoveCan I add new stores and registers?

Congrats! If you've opened a new store and need more software licenses just get in touch and we'll upgrade your plan. If you need additional hardware, we can sort that too.

addremoveI'm not sure. Can I try it out for free first?

Yes! We offer a no pressure 14 day free trial. This gives you the chance to explore the tools before committing, giving you piece of mind. We do recommend that you get in touch to book a demo as we can highlight features that could really benefit your business.

addremoveCan I use the EPOS features now and upgrade to eCommerce later?

Yes, that's not a problem. If you aren't ready to move online just yet, we can start you on the Essential or Pro plan then you can upgrade to the Unified (EPOS and eCommerce) plan later. If you have a specific eCommerce go live date in mind, let us know as soon as you can, we'll need a few weeks to design and develop your bespoke eCommerce site.