Saledock secures investment from tech investor, Bulldozer
---
Bulldozer invest in Saledock
NOVEMBER 04 2021
|
4 MIN READ
Saledock's article in Modern Retail online:
Saledock, the start-up innovator in omni-channel commerce, has received significant investment from Bulldozer, the Yorkshire-based investor in tech start-ups, which will help revolutionise the way retailers sell, manage and thrive.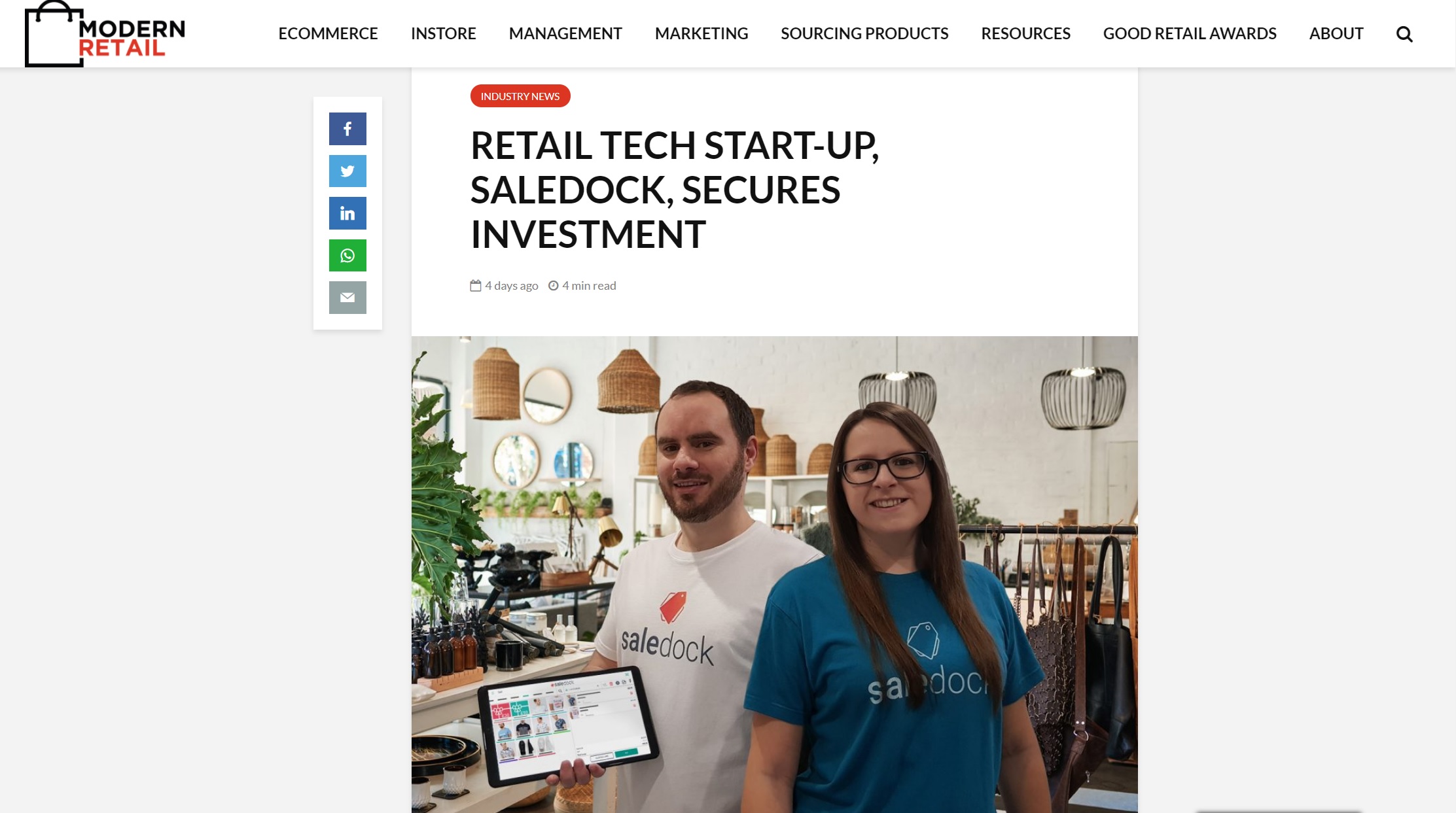 Launched in July 2020 by husband-and-wife-duo Layla and Lee Gladwin the company has witnessed unprecedented growth over the last 12 months, and the couple believe that this investment is a significant milestone in their quest to revolutionise retail.
"We want to make business easier for retailers. By automating the mundane and simplifying processes, we save retailers over a day a week in time so they can focus on what matters the most," says Layla Gladwin, founder of Saledock. "This investment will allow us to grow our team and establish ourselves as a retail tech innovator in the UK."
Built with retailers, for retailers
Saledock offers a point of sale (POS) and ecommerce solution that helps single and multi-store retailers, sell more and sell smarter. Their secure cloud-based solution unifies in-store and online sales, eliminating data duplication and stock level discrepancies across channels, with its instant product and stock level sync after every sale.
Saledock's inventory management, purchase order tooling and real-time analytics helps retailers understand their business better and make smarter data-driven decisions, so they can plan ahead with confidence.
Lee Gladwin adds: "Saledock was built with retailers, for retailers and we work closely with our customers, something we'll continue as we grow. We have the dedication and drive to lead the way in retail innovation whilst staying true to our community values.
"Our people-first approach not only saves retailers time but is also more cost effective. With one unified solution retailers can rely on a single support team that truly cares about their success. We're dedicated to working with retailers and evolving Saledock as business demands and trends change over time."
Investing to level up
The Bulldozer team is made up of MD's who have their own successful businesses and have joined together to form Bulldozer. Their experience will help add value and expertise to build on Saledock's success.
Layla said: "For us, the mentoring aspect of this partnership is extremely exciting. Of course, the financial boost will help make things happen faster but there's plenty more we will get from working together.
"There's a lot we can learn from the Bulldozer team, their successes, failures and learnings. By drawing on their expertise and experiences with regards to business strategy and targets, we can take Saledock to the next level."
The Gladwins believe this investment will open up a number of opportunities for Saledock to grow, and Bulldozer is the perfect investor to make their vision a reality.
Lee said: "Having a team to work with, bounce ideas and formalise plans will provide clarity and shape achievable goals that we can work towards. This investment is a real motivator to make our vision a reality and open doors to new connections."
Bulldozer has made a number of recent investments in Sheffield-based start-ups, in a bid to ensure that Yorkshire, The North, and the UK are not left behind as technology enables the world and its economies to develop at an unprecedented pace.
Robert Bell, Managing Director, Bulldozer, said: "With early stage investments you're really taking a bet on the founders of the company rather than the product or company itself. We saw a compelling, refined product with a credible and easily understandable route to market.
"We're really optimistic that Saledock will fulfil their promise and create a significant and impactful business, increasing revenue and decreasing overheads for hundreds of thousands of businesses across the world."
Read the article on the Modern Retail website.
Book a demo
---
Let's chat! Book a demo today and we'll discuss how Saledock can help you.
Book a demo
Start your free trial
---
Start your free trial today and explore all the tools Saledock can offer you!
Start free trial